Join our next "DIXIELAND JAZZ" SUNDAY Event on:
November 2, 2014
Featured: "Cell Block 7″
CELL BLOCK SEVEN is a California jazz band favoring the West Coast traditional
jazz sound of Lu Watters, Turk Murphy and the Bay City Jazz Band of the '50s in a classic jazz lineup led by two cornets. Their many festivals, tours, and concert successes are a direct result of their very professional approach coupled with a great sound and an extensive and varied repertoire.
As with most bands, the lineup has changed somewhat over the years, but most of the present team have been together for ten years or more. Cell Block Seven is a very versatile and entertaining band. By doubling their talents on the three double bell euphoniums, CB7 is able to produce some very different sounds — from fast, exciting trios to smooth and mellow blues, and exciting marches!
Inmate Personnel:
BOB ROMANS – LEADER, CORNET, DBL BELL EUPHONIUM
BOB SAKOI – CORNET, DBL BELL EUPHONIUM
PETE MAIN – CLARINET, DUCK CALL, SAX
JIM MAIHACK – TROMBONE, DBL BELL EUPHONIUM, VOCALS
TOM DOWNS – TUBA
JACK CONVERY – BANJO, VOCALS
DARYL HOSICK – PIANO
COLEMAN SHOLL – DRUMS
For more information on the band, visit Cell Block Seven's website.
Come and spend an afternoon of enjoyment while jamming, listening or dancing to the great sounds of Dixieland Jazz here at San Joaquin Dixieland Jazz Society!
Come dance and jazz-it-up with SJDJS!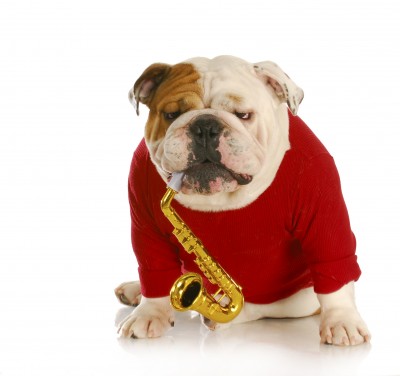 Click here to see Freddy the Bulldog's secret…
Freddy has an Alter Ego!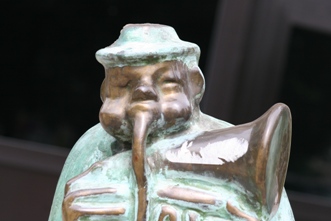 Our little Freddy character has been hiding his passion all along. Maybe someday we'll watch him jam with our musicians!
close
See our Coming Events page for information on future Guest Bands.