Join our next "DIXIELAND JAZZ" SUNDAY Event on:
August 3, 2014
Featuring:
Art Bregante & his Orchestra
Many of our members wait all year to come and listen to Art Bregante and his Orchestra play that beautiful music from the "Swing Era".   You don't need to have heard these tunes in the '40s and '50s; you just need to love to dance or listen to lovely swing music.
If you enjoy dancing, mark August 3rd on your calendar. You won't be sorry. Art's music suits the young folks, and the very same music suits the not-so-young folks.
Did you know that Art Bregante donates his wonderful band for our pleasure?  Give him your thanks when you come over to see him, and be ready to bring great music to your ears with his captivating big band ensemble and sound. When Art Bregante appears with his orchestra it is a rare and wonderful experience.
Enjoy listening and dancing to the great big band sound at our San Joaquin Dixieland Jazz Society event on August 3rd!
Band Personnel for August 3rd:
Emmett O'Sullivan – Tenor sax, clarinet
Andy Rosenblum – Alto sax, clarinet
Dick Lockwood – Baritone sax
Mike Rosenblum – Trumpet
Michael Rosenblum – Trumpet, flugelhorn
Carl Kaiser – Trombone
Milt Bowerman – Piano
Bill Sharp – String bass
Stephen Douville – Drums
Geri Eckert – Vocalist
Art Bregante – Leader
Come and spend an afternoon of enjoyment while listening and dancing to the great sounds of Dixieland Jazz here at San Joaquin Dixieland Jazz Society!
Come dance and jazz-it-up with SJDJS!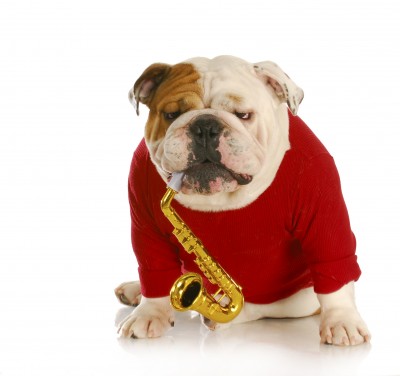 Click here to see Freddy the Bulldog's secret…
Freddy has an Alter Ego!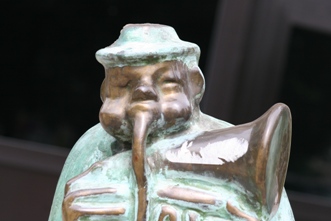 Our little Freddy character has been hiding his passion all along. Maybe someday we'll watch him jam with our musicians!
close
See our Coming Events page for information on future Guest Bands.