Join SJDJS for our next
"DIXIELAND JAZZ" SUNDAY EVENT
July 3, 2016
"Bye Bye Blues Boys Band"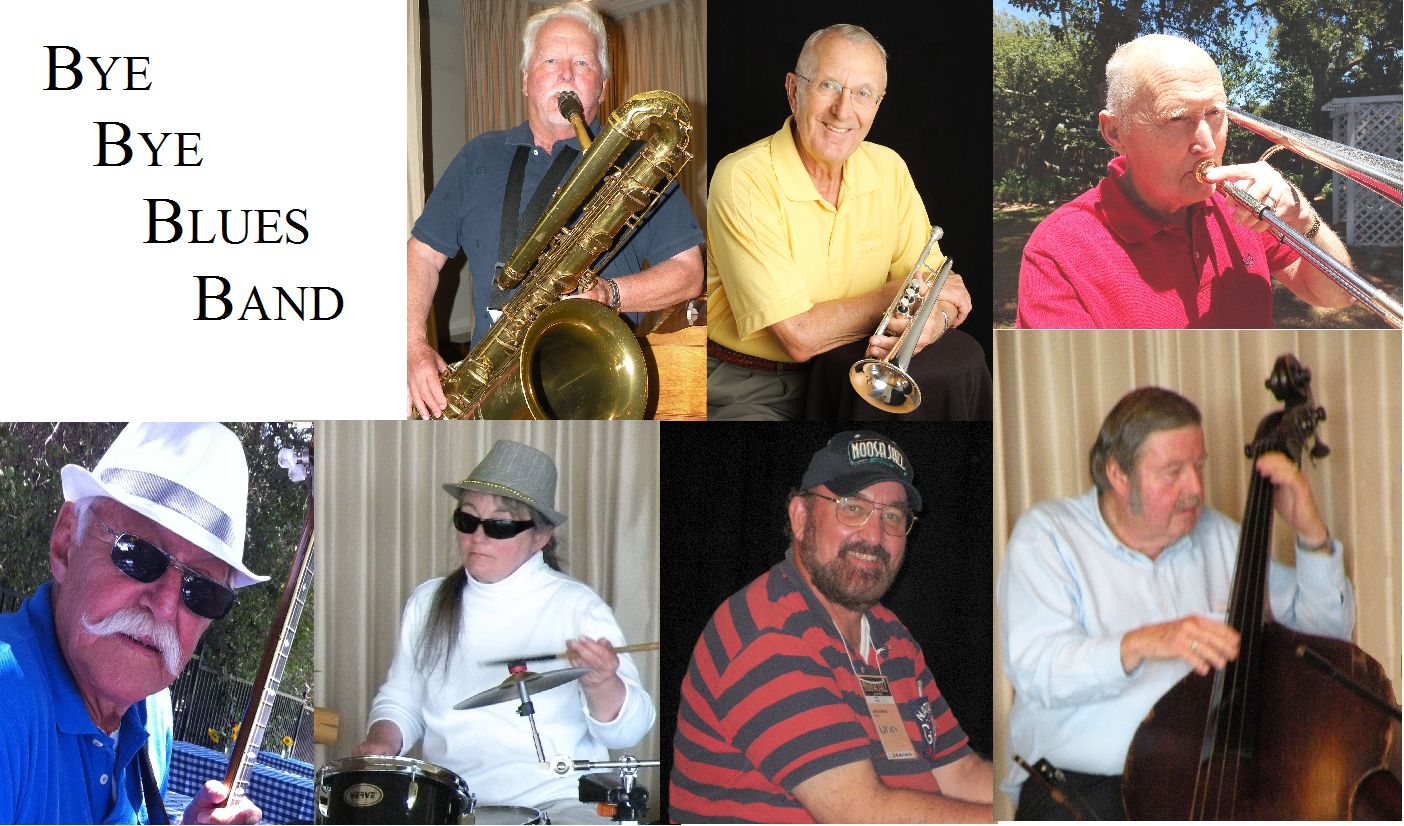 The Bye Bye Blues Boys Band, with Dick Williams as the on stage leader, are a local group of seasoned veterans of jazz and swing. They bring a fresh and exhilarating approach to traditional jazz tunes, the players are all individually excellent, and together produce a terrific sound that keeps the enjoyment level high and exciting.
Band Personnel:
Don Irving – Soprano Sax & Bass Sax (leader)
Dick Williams – Cornet (on stage leader)
Carl Reiley – Trombone
Carl Lunsford – Banjo
Debera McIrving – Drums
Rich Owens – Piano
Bert Robinson – String Bass
Individual Bios:
Don Irving – Soprano Sax & Bass Sax (Leader). Don, a California native, started playing Alto Sax in elementary school, picked up Tenor Sax in high school and Baritone Sax in college where Rock n Roll paid many expenses. After a tour in the Navy he picked up the sax again in 1970. Don moved to the Monterey Peninsula in 1984 and has been part of the local music scene ever since joining the Monterey Hot Jazz Society in 1988. Don has played in many Music Festivals around the state with groups like the Alcatraz Angels, the Bye Bye Blues Boys, and Black Tuesday Jazz Band. Other local groups Don has played in are the Monterey Lighthouse Jazz Band, Calamity Kin, Top of the Hill Jazz Band, and current project the Bounce Kitty! Buskers.
Dick Williams – Cornet, (On Stage Leader). Dick has played cornet since age ten, was a co-founder of Jazzin' Babies in 1978, played with the Desert City Six in Phoenix, and founded the Good Tyme Jazz Band in Kalispell, Montana. He returned to California in 1990, and has played with many Bay area bands including Tuleburg, Creole Jazz Kings, Alcatraz Angels, Fourth Street Five, Ted Schaffer, Bye Bye Blues Boys, and now is a regular with Mission Gold, a two cornet, Lu Watter's type band. A Marine officer in the early 1960's, he worked in the semiconductor and electronics industry until 1988, when he formed DWA, an Executive Search Company. His wife Kathy (Kemp) Williams is the Jazz Sea representative for the West Coast. He also organizes and directs the Jammers on JazzSea cruises and at various Dixieland festivals including San Diego and Pismo Beach.
Carl Reiley – Trombone.  A retired physician, Carl has played Trombone since his early teens. He played professionally during Medical School at the University of Michigan with the Ann Arbor Alley Cats. A Gold Card musician member of the Sacramento Traditional Jazz Society since 1971, Carl has played in the Sacramento area with the Dutch Deutch's Gas House Gang and seven Sacramento Dixieland Festivals with the Alamo Jazz Band of San Antonio, Texas. Active in the Monterey Hot Jazz Society after retirement he was Musical Director for two years. He played locally for many years with the Bye Bye Blues Boys Band and with Bob Phillips Sweet Thursday Jazz Band. He can sometimes be spotted playing Cornet when he is not busy with being the Director for Youth Activities with "Jazz Bash by-the-Bay" music festival.
Carl Lunsford – Banjo. My real playing days began in the 1950s with The Red Onion Jazz Band and the Riverboat Jazz Band in New York. In the summer of 1959 I toured Germany with Ed and Jean Kitrell's Chicago Stompers. I then joined Turk Murphy in the fall of 1959. I played with Turk until 1961 when I left to go to New York and Boston to play with The Red Garter and Your Fathers Moustache. I also had my own jazz band during that period. I returned to Turk in 1971 and played with him until 1977. I played with Turk off and on then until 1982. I also joined Ev Farey's Golden State Jazz Band and had my own group, The Rhythm Wizards during that period. I played with The Port City Jazz Band at this time. I played for a while with the Natural Gass Jazz Band and currently am freelancing and playing with the Thrown Together Jazz Band.
Debera McIrving – Drums. Originally from Saint Louis, Missouri, Debera moved to Florida's Space Coast soon after graduating high school. Having majored in modern foreign languages in college, she decided to join the 138th ASA Aviation Army Reserve Company and was sent to study Russian at the Defense Language Institute in Monterey in 1984. In 1988, she applied for a teaching position at the institute and was hired. The eventual collapse of the Soviet Union and US military down-sizing that followed resulted in a significant reduction in force at the language school–Debera was caught in the second wave of layoffs at the end of 1993. 'When one door closes, another opens'–as fate would have it, she found a beginning percussion class at the local community college, was a quick study & soon was playing timpani in several local concert bands & orchestras. It was in one of the bands that she met Don Irving. He invited her to play drums with the MHJS Jammers & Jubilators in a parade, and the rest, as they say, is history.
Debera is currently on the MHJS Board of Directors and has played with the Monterey LIghthouse, Top of the Hill, Calamity Kin, and Bye Bye Blues jazz bands. She and Don Irving are co-founders of the Bounce Kitty! Buskers.
Rich Owens – Piano. Rich has been playing traditional jazz in Northern California for over 25 years. Over the years, he has played for most of the area jazz societies with bands too numerous to mention. In addition to the Bye Bye Blues Band, he currently plays with Chris Bradley's Traditional Jazz Band, Jambalaya Swing, Natural Gas, Swingshift, and the Zinfandel Stompers. He also founded his own "Thrown Together Jazz Band" to provide entertainment at the Cupertino De Anza Lions/Sunnyvale Sunrise Rotary charity Crabfeed each January in Silicon Valley. We have helped to raise tons of money for folks less fortunate than us. Great musicians, great fun, for a great cause. What else is there?
Bert Robinson – String Bass. Bert is a native of Salinas and a product of public school and private music lessons. He has an extensive background in Symphony Orchestra and Broadway Musical productions. He holds a BA in String Bass and Music Composition from the University of the Pacific. When he isn't playing Bass in the Hartnell College Orchestra, the Bye Bye Blues Band or in one of many local musical groups, he likes to sing Barbershop.
Come out and Dance 'n Sway to "Our Kind of Music"!
Spend an afternoon of enjoyment jamming,
or listening and dancing to the great sounds of
Dixieland at the San Joaquin Dixieland Jazz Society!