Join SJDJS for our next
"DIXIELAND JAZZ" SUNDAY EVENT
November 6, 2016
"Chris Bradley's Traditional Jazz Band"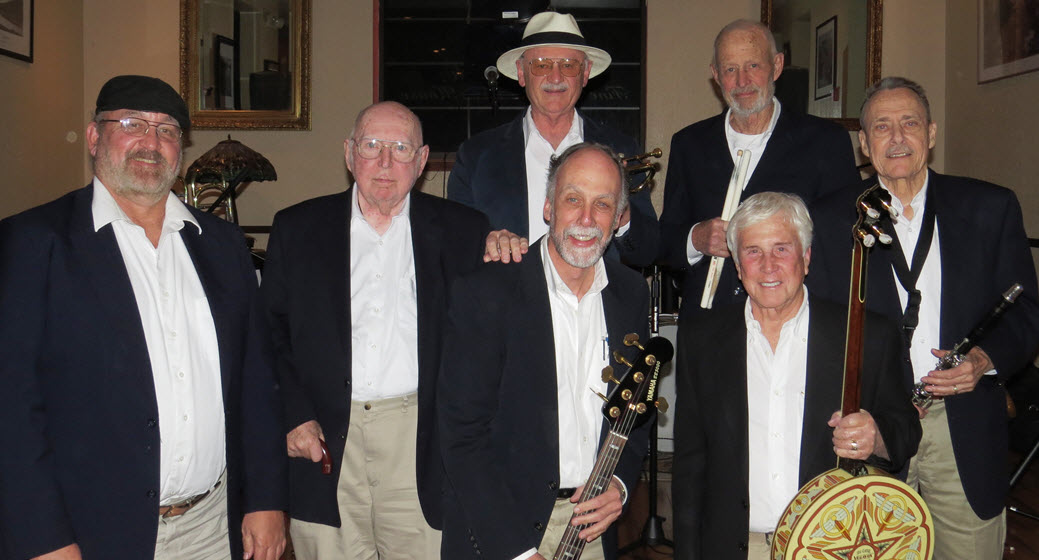 Chris Bradley's Traditional Jazz Band is a collection of well-seasoned local and San Francisco based musicians with rich musical backgrounds. They performed together at The Pleasanton Hotel for four years, The Sunol Jazz Cafe for four years and are presently at The Castle Rock Restaurant in Livermore. The band plays a mixture of Traditional Jazz tunes– music of the 20's, 30's and New Orleans style jazz in a bouncy rhythmic style that is ideal for both listening and dancing.
Band Personnel:
Chris Bradley: Cornet – Leader, Vocals
Taught by bay area Dixieland cornet player and bandleader Fred Shockley. Played first trumpet for the South Bay "Leratones" swing band for over ten years. Played with a variety of East Bay Swing bands as well as Community Theater Group orchestras. Started his own Traditional Jazz group in the 1990's, and has since been performing in the Bay Area at a numerous venues. Subs with San Francisco's "Buena Vista Jazz Band", Mal Sharpe's "Big Money in Jazz Band", and the "Silicon Gulch Jazz Band" among others.
Robert Boring: Trombone
Raised in Richmond, California. Played in Richmond High Band – Air Force Band 4 years Trombone, Tuba, Electric Bass. Played 6 years in the Original Straw Hat Pizza Parlor in San Leandro in the Sixties. Plays regularly with Chris Bradley, has his own band in Alameda and plays with various Big Bands—Local icon-also has mentored /and is mentoring many musicians.
Dwayne Ramsey: Reeds, Vocals
Dwayne learned (trad. jazz) music listening to records and live radio broadcasts from the Club Hangover in the 1950's. He is a regular with Chris and a regular with "The King Cotton Band" in the Redding area. A highly skilled musician, Dwayne plays weekly in San Francisco with Mal Sharpe at The Savoy-Tivoli and monthly with Mal at a gig in Martinez (Armando's).
Rich Owens: Piano, Vocals
Very well known and sought after in the Traditional Jazz world, (local and international), Rich is a regular with several Bay Area groups including "Natural Gas" and the "Jambalaya Swing Band", his own group– and many many more.
Steve Doherty: Bass
Electric bass joined CB's TJB in April 2005. Steve–very loyal member of the band– also enjoys playing bass with the Golden Gate Park Band (25 years and counting). When he's not busy playing or teaching music, he's a docent at the Steinhart Aquarium.
Bob Steffen: Banjo
Bob has been a long time Bay Area musician playing with Traditional Jazz Bands. He has played Saxophone with local swing bands /as well as playing banjo in local banjo bands. He also plays in the San Ramon Symphonic Band. (And when not playing, he builds his own planes).
Mike Ross: Drummer, Vocals
Mike is a highly regarded Marin County drummer, who drives the band forward with an unerring sense of timing–his wonderful cheerfulness uplifts all the groups he plays with. He is also an important member of the "King Cotton Band".
Come out and Dance 'n Sway to "Our Kind of Music"!
Spend an afternoon of enjoyment jamming,
or listening and dancing to the great sounds of
Dixieland at the San Joaquin Dixieland Jazz Society!