Join our next "DIXIELAND JAZZ" SUNDAY Event on:
October 5, 2014
Featuring: "Black Tuesday Jazz Band"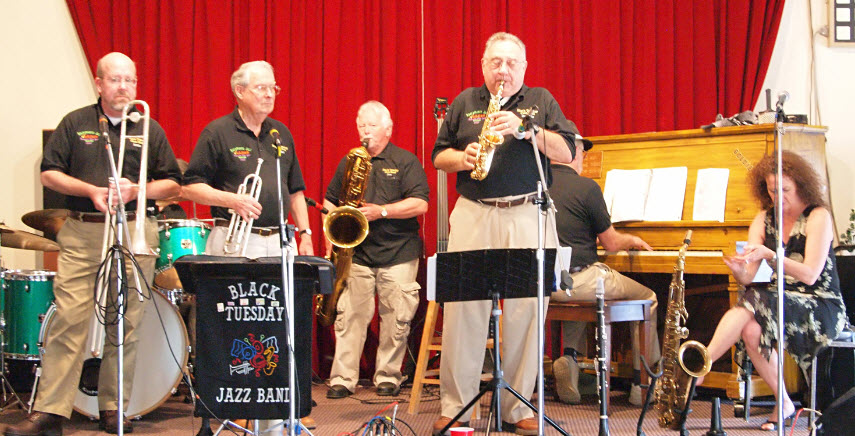 The Black Tuesday Jazz Band has entertained audiences throughout California and Nevada since the early 1990's. Black Tuesday is a high energy Jazz Band holding to its original promise, "fun music is our thing". This formula has kept the Black Tuesday Jazz Band busy all around California and Nevada carrying the jazz banner to concert audiences and in casual settings and club engagements.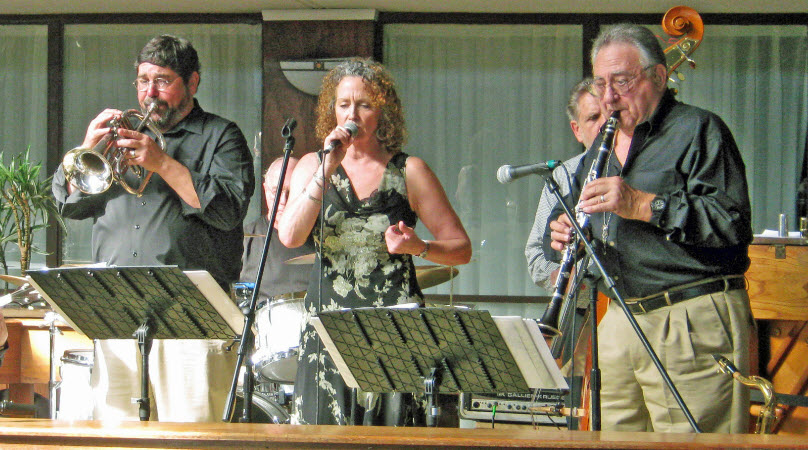 Black Tuesday has a smooth and unique style of jazz and swing through the versatility of its musicians, some of whom play multiple instruments. This talented group of eight musicians has worked on improving their style and sound by varying the instrumental mix depending on the audience and the era of music played.
Black Tuesday performs renditions of your favorite good-time tunes, as well as some of the great music from Louis Armstrong, Duke Ellington, Fats Waller, Sidney Bechet, Jelly Roll Morton, Clyde McCoy, Hoagy Carmichael, in addition to original jazz tunes. Black Tuesday has one of the top Divas of the Sacramento area, Suzanne Wiggins, who captures audiences singing favorites from Ethel Waters, Billie Holiday and Muriel Lane. This entertaining band provides a variety of high energy jazz whenever good-time music is a must.
Band Personnel:
Dominic Ruggieri, Leader / Reeds
Jan Buhlert, Plectrum guitar/Banjo
Mike Hudson, Trombone
Don Irving, Bass Sax / String Bass
Dave Johnson, Trumpet /Flugelhorn/Vocals
Jim Laveroni, Drums / hand percussionist
Alan Shaw, Piano
Suzanne Wiggins, Vocalist
Visit Black Tuesday Jazz Band website
Come and spend an afternoon of enjoyment while jamming, listening or dancing to the great sounds of Dixieland Jazz here at San Joaquin Dixieland Jazz Society!
Come dance and jazz-it-up with SJDJS!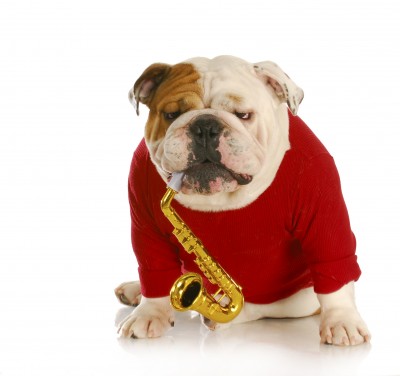 Click here to see Freddy the Bulldog's secret…
Freddy has an Alter Ego!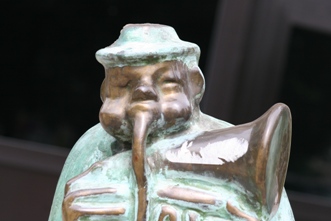 Our little Freddy character has been hiding his passion all along. Maybe someday we'll watch him jam with our musicians!
close
See our Coming Events page for information on future Guest Bands.