Join SJDJS for our next
"DIXIELAND JAZZ" SUNDAY EVENT!
December 6, 2015
Mission Gold Jazz Band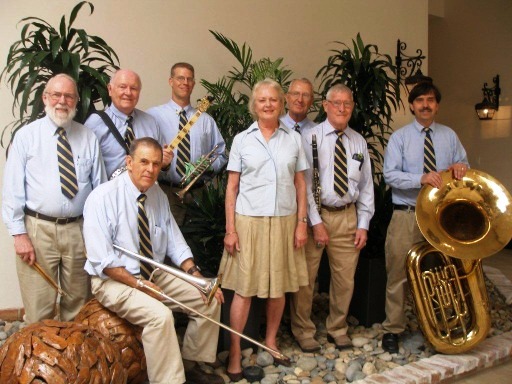 Mission Gold Jazz Band
With a name inspired by the golden hills above Fremont's Mission San Jose, Mission Gold is an eight piece, two cornet band consisting of a variety of multi-talented musicians from all over the Bay Area. MGJB was formed in 1980 and has a long tradition of performing the music of Jelly Roll Morton, King Oliver, Lu Watters and Turk Murphy. The band plays standards and more common tunes in the swing genre. The main goal is to please the dancers, strutters, and jazz listeners.
We offer a variety of Dixieland styles, including Marches, Blues, Ragtime and Stomps. We encourage audience participation during tunes reminiscent of the cakewalk, parasol strutting and to raise their voices to sing along with the band.
Band Personnel:
Dick Williams – Cornet/Vocals
Rich Newcomb – Cornets/Vocals
Ray Buhler – Reeds
Roz Temple – Piano
Jack Wiecks – Banjo
Marc Messier – Drums
Bob Sterling – Tuba
John Soulis –  Trombone, Leader and Vocals
• John Soulis
I've had an interest in Trad/New Orleans Jazz ever since I started to listen to my brother's records when I was 10 years old. This music played by Turk Murphy and Lu Watters was inherent in my own development as a traditional trombone player. Out of this interest in Trad Jazz, I along with others formed the Mission Gold Jazz Band in 1980. Twenty five years later, members of the Mission Gold Band have mentored the youth band "Jazzinators" into a group which is presently keeping Traditional Jazz alive and well. Mission Golds Jazz Band is in its' 35th year of existence. I am the leader, trombone/euphonium player and have been known to sing a tune or two.
• Bob Sterling
Bob is the band director at Kennedy High School in Fremont. He was introduced to dixieland jazz by then fellow teacher John Soulis who needed a tuba player for Mission Gold. He has been with the band since the early 1990's.
• Roz Temple
Roz helped us out immensely in late 2004 and early 2005, alternating with Rod on piano and bringing her own infectious stride style and ragtime solos to our repertoire. Now we're delighted to have her full time!
• Jack Wiecks
Jack started a long-time interest in traditional jazz in high school. After growing up in Western Oregon (where jazz bands are as rare as giraffes) he finally saw a real live Dixieland band at the University of Oregon. He traded in his ukulele for a banjo, but after a few years of college jam sessions, the necessities of making a living and raising a family set in. Recent years have allowed more time for Dixieland and Jack has played with Professor Plum, Churchill Street, Mission Gold, Silicon Gulch, 52nd Street Revival and the Magnolia Jazz Band. Jack has been a member of Mission Gold since 1996.
• Dick Williams
Dick is a well-known and respected Bay Area cornetist. Dick was a co-founder of "Jazzin Babies", and played with the "Desert City Six" when living in Southern California. Dick moved to Montana and led the "Good Tyme JB", and since coming back to California he was a member of "Alcatraz Angels," "Tuleburg," and "Creole Jazz Kings" before joining Mission Gold. He is associated with JazzSea Cruises/Jammers and often organizes jam sets at major jazz festivals.
• Ray Buhler
Inspired by Sidney Bechet's European concerts, Ray, at the age of 18, co-founded a band called "The Oldtimers". The group ended up performing at the 1961 Jazz Festival in Zurich. Sidetracked by education and a career in R&D that eventually brought him to the US , he began playing again in 1998. In the following year he organized the South Bay Stompers, which started playing at the "Cats" in Los Gatos and later at Britannia Arms in Cupertino for many years. Most recently, Ray has become a regular with the Toot Sweet and the Mission Gold Jazz Bands.
Mission Gold Jazz Band: Mission Gold Jazz Band Facebook page
Upon request, for smaller venues and events, the band can be reduced to as few as 5 instruments. The leader can assemble the best sound for your event.
Come out and Dance and Sway to "Our Kind of Music"!
Spend an afternoon of enjoyment jamming,
or listening and dancing to the great sounds of
Dixieland at the San Joaquin Dixieland Jazz Society!