Join our next "DIXIELAND JAZZ" SUNDAY Event on:
December 7, 2014
Featuring: Mission Gold Jazz Band
With a name inspired by the golden hills above Fremont's Mission San Jose, Mission Gold Jazz Band is an eight piece, two cornet band consisting of a variety of multi-talented musicians from all over the Bay Area.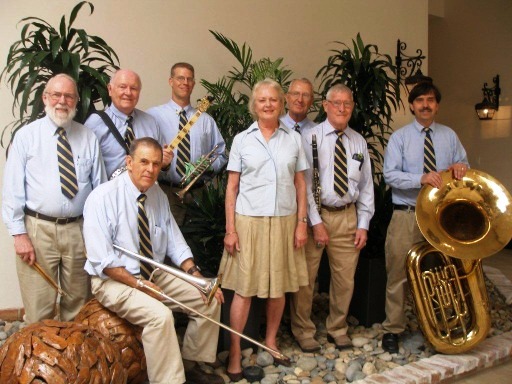 MGJB was formed in 1980 and has a long tradition of performing the music of Jelly Roll Morton, King Oliver, Lu Watters and Turk Murphy. The band plays standards and more common tunes in the swing genre. The main goal is to please the dancers, strutters, and jazz listeners.
Mission Gold Jazz Band offers a variety of Dixieland styles, including Marches, Blues, Ragtime and Stomps. We encourage audience participation during tunes reminiscent of the cakewalk, parasol strutting and to raise their voices to sing along with the band.
Band Personnel:
John Soulis – Trombone, Baritone, Vocals, Leader
Bob Sterling – Tuba
Earl Scheelar – Clarinet
Roz Temple – Piano
Jack Wiecks – Banjo
Dick Williams – Coronet
Rich Newcomb - Coronet, Trombone, Baritone & Vocals
Bert Thompson – Drums
Mission Gold Jazz Band website: www.jazzdance.org/MissionGold
Come and spend an afternoon of enjoyment while jamming, listening or dancing to the great sounds of Dixieland Jazz here at San Joaquin Dixieland Jazz Society!
Come dance and jazz-it-up with SJDJS!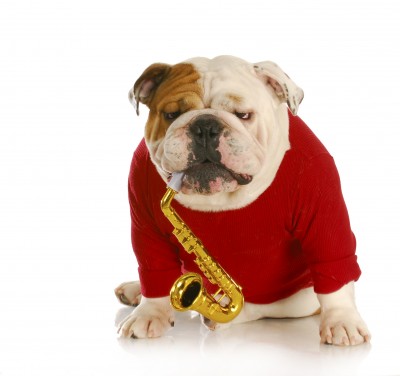 Click here to see Freddy the Bulldog's secret…
Freddy has an Alter Ego!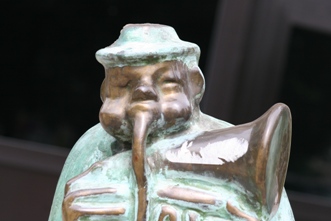 Our little Freddy character has been hiding his passion all along. Maybe someday we'll watch him jam with our musicians!
close
Visit our Coming Events page for
information on future Guest Bands