Join SJDJS for our next
"DIXIELAND JAZZ" SUNDAY EVENT
MAY 7, 2017
"The Creole Jazz Kings"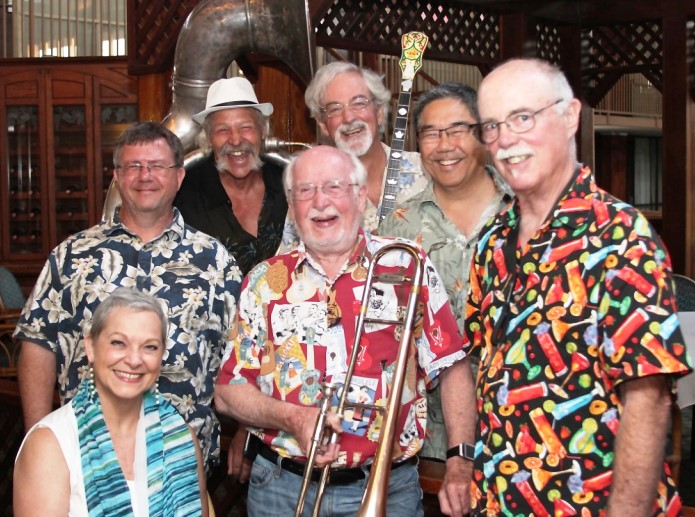 THE CREOLE JAZZ KINGS
Combining the experience of seven years of steady Wednesday-gigs with a lineup of experienced players, The Creole Jazz Kings come to entertain and dazzle with their well-spiced joyful jazz served hot with a dash of blues. Material includes early jazz masterpieces from Armstrong, Morton and Ellington along with New Orleans revival and New York pop tunes.
Every song, every solo, every vocal comes from the heart. Trumpeter, Bob Sakoi, backed stars including Mickey Finn, Tony Bennett, Sammy Davis, Jr. and Dean Martin in Las Vegas show bands and works with Fulton Street and The Cell Block Seven.
Tom Schmidt, clarinet and sax, played with Port City, The Washboard Wizardz, Mal Sharpe's Big Money in Jazz, and currently in the show, A Thousand Kisses Deep – The Music of Leonard Cohen.
Wild man Keith Baltz lights up Bourbon Street annually during the French Quarter Jazz Festival and plays with The Devil Mountain Jazz Band.
Kurt Abell is a stalwart at Banjoramas across America; he played with The Cats 'n Jammers, The Washboard Wizardz, and The Cell Block Seven.
Curiously, The Creole Jazz Kings are also The Cats 'n Jammer Jazz Band. After The Cats leader, Gene Berthelsen passed in 2011, Bob Sakoi filled in for him and the two bands were essentially the same. Memorializing Gene, CJK occasionally performs as The Cats, including 6 years at an annual Mardis Gras festival in Mazatlan, Mexico and several times at the Sacramento Music Festival. The split personality has enhanced CJK by enriching its repertoire.
Check us out on Facebook: https://www.facebook.com/creolejk/
Come out and Dance 'n Sway to "Our Kind of Music"!
Spend an afternoon of enjoyment jamming,
or listening and dancing to the great sounds of
Dixieland at the San Joaquin Dixieland Jazz Society!