Join our next "DIXIELAND JAZZ" SUNDAY Event on:
January 4, 2015
Featuring: Fulton Street Jazz Band
The Fulton Street Jazz Band is one of the West Coast's long-standing and most popular Classic Jazz and Swing bands. Since 1965, they have headlined at hundreds of prestigious Jazz festivals, been featured on over 25 Jazz cruises throughout the world, made many TV and radio appearances and recorded countless LPs and CDs. They are the only band to have played all 41 Sacramento Music (Jazz) Festivals. On May 30, 2011 their leader Bob Ringwald was given the great honor of being named the Emperor of Jazz by the Sacramento Traditional Jazz Society for the 39th annual Sacramento Jazz Festival and Jubilee, (since renamed the Sacramento Music Festival).
The FSJB is a hard-swinging band that plays in the tradition of Eddie Condon's New York bands of the 1940s and 50s. But . . . . They don't stop there. Their extensive and varied repertoire combines elements of the music of Chicago, San Francisco and most importantly, New Orleans.
Be sure to pick up their latest CD which features two songs by their former vocalist, actress Molly Ringwald. Not to be missed!
Personnel:
Bob Ringwald, leader piano vocal
Bob Sakoi, trumpet flugelhorn
Paul Edgerton, reeds
Bob Williams, trombone vocal
Darrell Fernandez, bass
Vince Bartels, drums
Individual musician bios may be found at:  www.fultonstreetjazz.com
An extensive bio for leader Bob Ringwald may be found at:  www.ringwald.com
Come and spend an afternoon of enjoyment while jamming, listening or dancing to the great sounds of Dixieland Jazz here at San Joaquin Dixieland Jazz Society!
Come dance and jazz-it-up with SJDJS!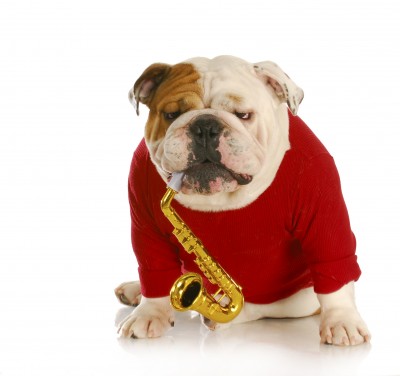 Click here to see Freddy the Bulldog's secret…
Freddy has an Alter Ego!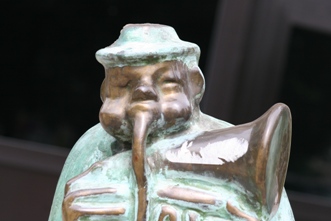 Our little Freddy character has been hiding his passion all along. Maybe someday we'll watch him jam with our musicians!
close
Visit our Coming Events page for
information on future Guest Bands