Join our next "DIXIELAND JAZZ" SUNDAY Event on:
March 1, 2015
"BAND WITH POTENTIAL"


(Paying Tribute to Sidney Bechet)
Band with Potential was organized when, by a chance crossing of paths, it was realized that both Dominic Ruggieri ( Soprano sax) and Bill Sharp (Trumpet/Trombone) loved the songs written by Sidney Bechet.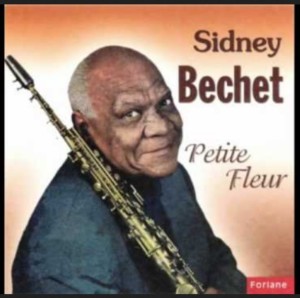 A "dry run" was made when the band appeared on the main stage during a meeting of the Sacramento Jazz Society, and was met with rousing enthusiasm and many rounds of applause. There were many accolades given to members as they left the stage, indicating that this was a group that needed to appear more often, and so Bill and Dominic began expanding the Bechet book.
Because only a few of Bechet's tunes have made their way into the traditional dixieland literature, it took a lot of digging to find transcriptions of the songs. For some, Bill undertook the laborious task of transcribing the melodies and finding the chords from recordings, then Dominic used his computer skills to create beautifully printed lead sheets in the keys needed for each instrument.
Dominic leads a trad jazz band called Black Tuesday (Sacramento), and the members of that organization were as excited about playing the Bechet tunes as were Dominic and Bill. It creates a band presenting the unique Bechet tunes which are seldom, if ever, heard by patrons attending trad jazz sessions. What the audience will hear is mostly new, fresh jazz material originally written by Sidney Bechet. Dominic will also give a short history of the life of the composer and the songs as the sets progress.
We were accepted as a band to perform at a meeting of the Fresno Jazz Society, and were met with huge success. We were told at that time that they wished that, had they known about us before they hired all the bands for their annual festival, we would have been hired. We have been asked if we are available for the 2016 festival. We have been invited to perform in the 2015 Hot Jazz Festival, Sacramento.
The uniqueness of this band is that it plays only tunes written and performed by Sidney Bechet, which of themselves are extremely diverse in their styles. We recommend that this band should appear where there are dance floors, because the flavor of the tunes and the drive of the band forces people to get up and dance.
All in all, you can look forward to a very fine listening, dancing, and informative afternoon spent with THE BAND WITH POTENTIAL.
ITS MEMBERS:
Dominic Ruggieri, Leader/Reeds – – He has been playing reeds since the age of six, organizing his first 17 piece jazz band in high school. Played in numerous jazz groups in college, leading the University Dixieland Band. Spent 4 years in the Air Force and National Guard bands. Played with various jazz combos in the San Jose Bay Area. After retirement in 2001, he moved to Shingle Springs and stays active by leading and playing in the Black Tuesday Jazz Band.
Jan Buhlert, Plectrum guitar and banjo – – Began playing banjo in his Junior year of high school, after playing trumpet for many years in marching, concert, dance, and jazz bands. While in college, he played banjo in numerous venues. In 1962, he joined the Phabulous Dixon Phirehouse Philharmonic Jazz Band, which still performs. Toured Hawaii 5 times with PDPPJB, played on a cruise ship in the Mediterranean, and on a cruise ship to Canada. Hundreds of gigs have been played during ensuing years. Jan is a collector of over 70 pre-war banjos.
Jim Leverone, Drums/percussionist – – Self taught at the age of 12, he plays all styles of music with equal skill and grace, from rock, to blues, to dixieland. Jim plays with several Sonoma County bands, as well as with Black Tuesday JB. A band can perform at its best when it has a good rhythm foundation as provided by drummers like Jim.
Alan Shaw – – Alan Began playing piano in grade school and played mostly as a solo pianist for many years. In the 1980's he became the leader for the "R U Sure Band" in the San Francisco Bay Area for seven years. On Retirement he moved to Bakersfield, where he performed as soloist and with various Jazz Bands on occasion. In 2003, he joined the Black Tuesday Jazz Band. Alan has written some original music.
Bill Sharp, Trumpet/trombone – – Since the age of 8 Bill has tooted whenever and wherever he can. Though he has played in rock, blues, country, bluegrass, jazz and latin bands, he loves it especially when he gets to play dixieland, which he has played continuously since 1980 in numerous bands run by others, as well as leading several of his own. Bill has played at many many jazz society meetings and appeared at Festivals in and out of California.
Alan Ginter, Upright bass – – Alan states," Yes, I read music, but i don't let it get in the way of my playing". That pretty much defines a real jazz musician. Alan is definitely "the real thing". His technical training resulted in his earning a B.A., a B.S., and an M.A. degree in music, but his real education has come from his numerous years having been in bands backing many major performers, and playing in countless small groups. It's hard to name someone he hasn't played with, both nationally and internationally. Since the 1980's he has played every year at the Sacramento Jubilee. So he is a definite asset for any band to which he lends his talent . You'll love the fact that at age 13 he got a special license allowing him to play where liquor was served, and has been playing continuously for well over 50 years.
Come and spend an afternoon of enjoyment while jamming, listening or dancing to the great sounds of Dixieland Jazz here at San Joaquin Dixieland Jazz Society!