December 11, 2011
JassCity Jazz Band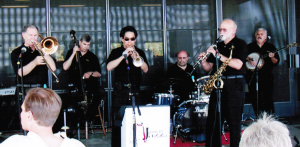 Band Personnel:
Bob Sakoi – Leader, Trumpet
Benny Marcelo – Piano
Bob Edson – Trombone
Don Rees – Reeds
Tony Palazuelos – Drums
Darrell Fernandez – Bass
November 6, 2011
Midnight Rose Jazz Band
The town of Wallace, California, is the home of the Midnight Rose Jazz Band. The band members are no strangers to San Joaquin Dixieland Jazz Society; all but one are 'Gold Card Musician' members, and Dannie and Reuben have both served as club officers in the past. All have often graced our stage as jammers.
The band was formed in 1980, and started out with 4 members of the Balser family, plus Reuben on tuba only, and the late Ken O'Brien. The band has evolved since then, and the music suits this club even better. The sound is somewhat more mellow, and the beat just pulls the dancers out on the dance floor. The "heart" of the band is still beating, and you can tell you are hearing the Midnight Rose Jazz Band.
Although the late Ken O'Brien is pictured, he will be with the band in spirit only; we can't wait to hear the new sound with Tim Kreis on tenor sax!
Band personnel:
Dannie Balser Singinghawk – Leader, Trumpet & Vocals
Nancy Kreis – Clarinet
Tim Kreis – Tenor sax
Ben Marcelo – Piano
Reuben Smith – String bass & Tuba
Carl Warmdahl – Drums
October 2, 2011
Mission Gold Jazz Band
With a name inspired by the golden hills above Fremont's Mission San Jose, Mission Gold is an eight piece, two cornet band consisting of a variety of multi-talented musicians from all over the Bay Area.
MGJB was formed in 1980 and has a long tradition of performing the music of Jelly Roll Morton, King Oliver, Lu Watters and Turk Murphy. The band plays standards and more common tunes in the swing genre. The main goal is to please the dancers, strutters, and jazz listeners.
Mission Gold Jazz Band offers a variety of Dixieland styles, including Marches, Blues, Ragtime and Stomps. We encourage audience participation during tunes reminiscent of the cakewalk, parasol strutting and to raise their voices to sing along with the band.
Band Personnel:
John Soulis – Trombone, Baritone, Vocals Leader
Andy Parker – Drums
Bob Sterling – Tuba
Earl Scheelar – Clarinet
Roz Temple – Piano
Jack Wiecks – Banjo
Rick Holzgrafe – Coronet, Trombone, Vocals
Dick Williams – Coronet
Mission Gold Jazz Band website: www.jazzdance.org/MissionGold
September 4, 2011
Dixie Ink
Band Personnel:
Brandon Au – Trombone
Justin Au – Trumpet
David Kawamoto – Reeds
Ben Marcelo – Piano
Jim Lucas – Bass
Loren Iversen – Drums, leader
August 7, 2011
The Catsnjammer Jazz Band
July 3, 2011
Tom Castles – Memorial Concert
The Tom Castles Memorial Party was held in conjunction with our regular SJDJS "Dixieland-Jazz" Sunday event on July 3rd, 2011. This event was put together by our SJDJS club, the Tom Castles' Family, and the Stockton Elks Club.
June 5, 2011
DR. BACH and the JAZZ PRACTITIONERS

Dr. Bach & the Jazz Practitioners love to play Jazz and love to have fun (Jazz & Fun do go together). This group of 7 musicians plus Vocalist play Traditional Jazz with a Tuba/Banjo sound, then do Swing with a Bass/Guitar combination.
Band Personnel:
Trumpet/Leader – Charlie Gehlbach (Dr. Bach)
Reeds – Norm Gary
Trombone – Jay Paulus
Piano – Tom Brier
Banjo/Guitar/Vocals – Jim Elsaas
Tuba/Bass – Jerry Lopes
Drums – Jim Roberson
Vocalist – Angela Elsaas
Charlie Gehlbach (Dr. Bach)
(530) 885-2344
Email: drbachjazz@sbcglobal.net
Website: http://drbachjazz.blogspot.com
May 15, 2011
Take 2 Youth Band
Take 2 is the youth band that SJDJS is sponsoring to go to the Sacramento Youth Camp. You will hear what our Youth Fund dollars have been put towards when you experience the great music from these musicians.
Band Personnel:
Jackson Levin – Trumpet
Tim Kreis – Soprano Sax, Clarinet, Alto Sax
Lindsay Russell – Trombone
Maddy Pringle – Tenor Sax
Matthew Seno – Piano
Leah Carroll – Drums
Christian Goodbrake – Bass