December 2, 2012
Featuring: Mission Gold Jazz Band
With a name inspired by the golden hills above Fremont's Mission San Jose, Mission Gold is an eight piece, two cornet band consisting of a variety of multi-talented musicians from all over the Bay Area.
MGJB was formed in 1980 and has a long tradition of performing the music of Jelly Roll Morton, King Oliver, Lu Watters and Turk Murphy. The band plays standards and more common tunes in the swing genre. The main goal is to please the dancers, strutters, and jazz listeners.
Mission Gold Jazz Band offers a variety of Dixieland styles, including Marches, Blues, Ragtime and Stomps. We encourage audience participation during tunes reminiscent of the cakewalk, parasol strutting and to raise their voices to sing along with the band.
Band Personnel:
John Soulis – Trombone, Baritone, Vocals Leader
Andy Parker – Drums
Bob Sterling – Tuba
Earl Scheelar – Clarinet
Roz Temple – Piano
Jack Wiecks – Banjo
Rick Holzgrafe – Coronet, Trombone, Vocals
Dick Williams – Coronet
Mission Gold Jazz Band website: www.jazzdance.org/MissionGold
JassCity Jazz Band – The 2012 version of JassCity carries on in the tradition established by Jim and Sherry Hubbard. With a swinging rhythm section and a well seasoned front line, this band remains one of the favorites on the circuit among dancers and listeners alike. JassCity musicians have performed with many notable entertainers, some of which include Tony Bennett, Pete Fountain and Lawrence Welk. Versatility is another hallmark, as several members double on various instruments and some others will pick up a microphone and belt out a vocal.
Members include:
Bob Edson (trombone, bass, piano, vocals). Bob is a bandleader in his own right going back to his college days when he sent Bob Edson's Centurions to various Fraternities and Sororities in Oregon.
Don Rees (alto, tenor and soprano sax, clarinet and vocals) was a long standing member of one of the central valley's longest running and most popular bands, Hogin's Heroes.
Bob Stover (drums) is a versatile musician, holding the principal percussionist chair in the Stockton Symphony, drummer in several combos and big bands and leader of the Tropical Nights band.
Manny Constancio (banjo,guitar, vocals) is a very talented guitar/banjo player as well a vocalist. He spent over 20 years as bandmaster of Navy band and played with jazz icons Al Hirt and Pete Fountain.
Darrell Fernandez (bass), was active in the Hawaiian jazz scene since 1975 where he played with Herb Ellis, Trummy Young, Ernie Washington, and Dave Liebman. While in Hawaii, he performed in the Kool Jazz Festival and in various Honolulu jazz spots. Since moving to Sacramento in 1990, he has been a sought-after bassist in local clubs and jazz festivals throughout California.
Bob Ringwald (piano/vocals) is a multi-talented musician who has formed and led several bands including the Great Pacific Jazz Band in Los Angeles and the Fulton Street Jazz Band of Sacramento, California. From 1970-1973, he was the intermission pianist at Turk Murphy's famous San Francisco night spot, Earthquake McGoon's.
Bob Sakoi (leader, trumpet, flugelhorn and, thankfully, no vocals). Bob started his musical career playing in the Dixieland band at the Great America theme park, later working his way through college playing Latin music in clubs and on the radio. In 1977 he moved to Las Vegas and performed with headliners including Tony Bennett and Sammy Davis Jr.
October 7, 2012
Art Bregante & His Orchestra
Art Bregante and his Orchestra brought great music to our ears with his captivating big band ensemble and sound.
All enjoyed this rare appearance by Art Bregante and his orchestra, and spent a day of enjoyment listening and dancing to this great big band sound here at our San Joaquin Dixieland Jazz Society event!
Band Personnel:
George Rego – Tenor sax
Andy Rosenblum – Alto sax, clarinet
Emmett O'Sullivan – Tenor sax, clarinet
Dick Lockwood – Baritone sax
Mike Roenblum Trumpet
Michael Rosenblum, Jr. – Trumpet, fluglehorn
Larry Tyrell – Trombone
Bill Sharp – String bass
Bob Edson – Piano
Stephen Douville – Drums
Geri Eckert – Vocalist
Art Bregante – Leader
September 2, 2012
All Jammers!
August 5, 2012
Cell Block 7 Jazz Band
CELL BLOCK SEVEN is a California jazz band favoring the West Coast traditional
jazz sound of Lu Watters, Turk Murphy and the Bay City Jazz Band of the '50s in a classic jazz lineup led by two cornets. Their many festivals, tours, and concert successes are a direct result of their very professional approach coupled with a great sound and an extensive and varied repertoire.
As with most bands, the lineup has changed somewhat over the years, but most of the present team have been together for ten years or more. Cell Block Seven is a very versatile and entertaining band. By doubling their talents on the three double bell euphoniums, CB7 is able to produce some very different sounds — from fast, exciting trios to smooth and mellow blues, and exciting marches!
Band Personnel:
BOB ROMANS – CORNET, DBL BELL EUPHONIUM
ROB SAKOI – DBL BELL EUPHONIUM
PAUL EDGERTON – CLARINET
ERIC BURGER – TROMBONE, DBL BELL EUPHONIUM
TOM DOWNS – TUBA
DARYL HOSICK – PIANO
COLEMAN SHOLL – DRUMS
BANJO – KURT ABELL (hopefully!)
For more information on the band and players, visit Cell Block Seven's website.
July 1, 2012
Devil Mountain Jazz Band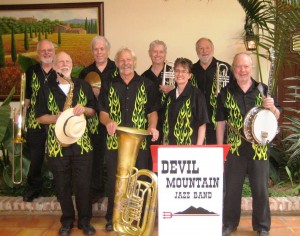 DEVIL MOUNTAIN JAZZ BAND continues to develop their multi-style approach to preserving the popular music of the late 1800's through the early 1930's, and the west coast revival jazz of the 1940's. The eight piece band is best known for the two trumpet sounds of the Joe Oliver and Lu Watters bands and the orchestrated "hot dance" music of the late twenties. You'll also hear DMJB perform ragtime, blues, "Dixieland" standards, gospel and novelty tunes, and an occasional duck-call by Pete Main, or assorted strange- instrument solos by Pete, Noel, and Glenn! The band also recreates the New Orleans-derived hot jazz popularized by Armstrong, Hardin, Biederbecke, Morton, etc., in Chicago in the late twenties. At many jazz festivals, they present special historical concerts celebrating the music of these jazz greats, and a special show, "From Ragtime to Jazz".
On special occasions or festivals, the band expands to 12 to 15 pieces to recreate the big-band sounds of the 1930's, flying the flag of the Jambalaya Swing Band. Smaller versions of the band play frequently for occasions where this historic music is new to some folks, with the focus on providing a good time through this happy music. Civic concerts, weddings, birthdays, anniversaries, church events, wine-tastings, restaurants, piano burnings, parades, are but a few of these events.
Since 1982, Devil Mountain has performed at several hundred jazz festivals, scores of Jazz Society and civic concerts, fourteen jazz cruises, and have held down two monthly dance & concert series in the San Francisco East Bay area at the Pleasanton Hotel and FRIENDS OF JAZZ for 25 years, now at the Danville Grange Hall. They have released ten recordings, most recently, "YOU ASKED FOR MORE".
Band Members:
KEN KEELER – Leader BANJO, GUITAR
PETE MAIN – REEDS
VIRGINIA TICHENOR – PIANO
KEN BROCK – CORNET, FLUGLE
KEITH BALTZ – TUBA
NOEL WEIDKAMP – CORNET, REEDS
ALLAN GRISSETTE – DRUMS
GLENN CALKINS – TROMBONE
For more information about Devil Mountain Jazz Band, click here.
June 3, 2012
Flying Eagles Band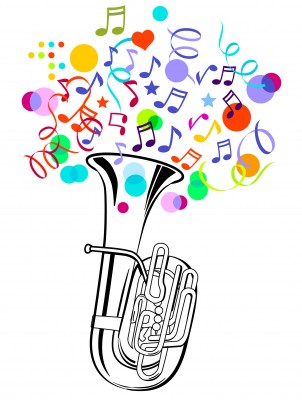 The Flying Eagles Jazz Band was formed at the Sacramento Trad Jazz Adult Camp in 2010. While this band is the "new kid on the block," the band plays as if they have been together for years! The style runs the gamut of Traditional Jazz styles, from the Original Dixieland Jazz Band to King Oliver, Fats Waller to a more modern-style Dixieland made famous by Kenny Ball. The band also plays slow blues favorites, up-tempo Dixieland classics, 1930s – 1940s popular swing, and even popular tunes. Regardless of your musical taste, this band guarantees to keep the audience dancing and their toes tapping.
John Tanko (reeds) is the leader. Jim Broadstreet (trumpet) and Bill Badstubner (trombone) fill out the "front line." Bob Ressue (piano), Jeff Green (banjo and guitar), Gerry Turner (bass), and Jim Laveroni (drums) set down the driving rhythm. Darby Tanko is the featured vocalist.
May 6, 2012
Take Two Jazz Band
Take Two Jazz Band – Expressing their own take on traditional jazz, Take Two is a traditional jazz band made up of 16 and 17-year-old high school honor students from the Elk Grove area. Formed in 2008, this is the second youth group to spring forth from the Joseph Kerr Middle School music program (i.e. the second take, hence their name).
Band Personnel:
Jackson Levin: Trumpet
Tim Kreis: Soprano Sax/Clarinet/Alto Sax
Lindsay Russell: Trombone
Maddy Pringle: Tenor Sax
Matthew Seno: Piano
Leah Carroll: Drums
Christian Goodbrake: Bass
Nancy Kreis – Director
April 1, 2012
Natural Gas Jazz Band
Natural Gas Jazz Band – Dixieland Jazz, New Orleans Jazz, Traditional Jazz, Classic Jazz – different names for the same goodtime, happy, foot-tapping music….a style created in New Orleans and presented in the San Francisco Bay Area and world wide for the past 41 years by the Natural Gas Jazz Band.
See their website at http://www.ngjb.com for more information about the band.
March 4, 2012
Jay Paulus's Society Band
"JAY PAULUS'S SOCIETY BAND" – (DANCE AND DIXIE) was formed in Chicago in the mid 80's where Jay & Barbara met and married. Jay is conservatory trained with concert and big band back ground in the US Navy and Chicago Big Bands combined with Barbara's theatrical past blend to make a very entertaining combination. Through the Sacramento Traditional Jazz Society they draw on friends and members to diversify their sound from 3 to 7 musicians to fit the occasion.
The following musicians were featured: Jay Paulus – Trombone & Leader, Barbara Paulus – Vocals & Co Leader, Charlie Gehlbach – Trumpet, John Tanko – Reeds, Parmys Weinberg – Piano, David Rees – Bass & Vocals, Bruce Turley – Drums & Vocals, Jim Fusaro – Vocals, Darby Tanko – Vocals.
February 5, 2012
"All Jams"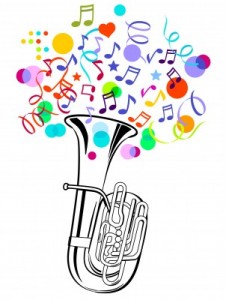 January 8, 2012
Bill Sharp and the
"Catchy Name Jazz Band"
The "CATCHY NAME JAZZ BAND" is definitely not the band you've seen in any photos in any publication anywhere on the planet. And you won't here either.
By breaking down the composite set of musicians you will however see that most of them have appeared individually in several other jazz bands. Some of the names will be highly recognizable by many, whereas perhaps one or two will be recognized only by their mothers. This group's focus is on presenting trad music (meaning that the songs are old, yet still good tunes) through numerous vocals, using hot mamas: Becky Sharp, and your very own Geri Eckert (btw: Becky is no relation, by any hook or crook, to Bill Sharp the band leader, and is thankful for that).
Band Personnel:
Dick (a.k.a. Rich) Lockwood (reeds/leader)
Joe Runnels (drums/leader)
Daryl Fernandez (Upright bass/leader)
Pat Bradley (piano/leader)
Brian Richardson (trombone/leader)
Jeff Green (banjo/leader)
Becky and Geri (see above, in case you missed it)
Bill Sharp (sideman, trumpet, and guitar)
Looking for more Past Events?