December 4, 2016
"Mission Gold Jazz Band"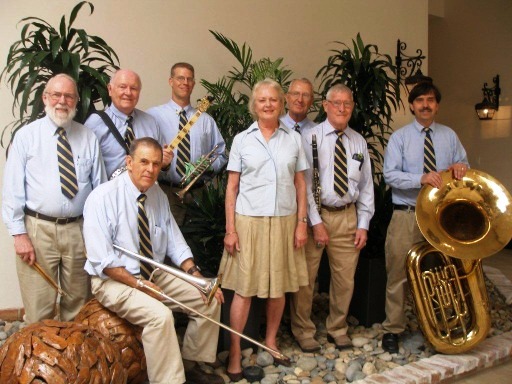 Mission Gold Jazz Band
With a name inspired by the golden hills above Fremont's Mission San Jose, Mission Gold is an eight piece, two cornet band consisting of a variety of multi-talented musicians from all over the Bay Area.
Mission Gold Jazz Band was formed in 1980 and has a long tradition of performing the music of Jelly Roll Morton, King Oliver, Lu Watters and Turk Murphy.  The band plays standards and more common tunes in the swing genre.
The main goal is to please the dancers, strutters, and jazz listeners with a variety of Dixieland styles, including Marches, Blues, Ragtime and Stomps. We encourage audience participation during tunes reminiscent of the cakewalk, parasol strutting and to raise their voices to sing along with the band.
Band Personnel for December 4th:
Dick Williams – Cornet/Vocals
Bill Sharp – Cornets/Vocals
Ray Buhler – Reeds
Roz Temple – Piano
Jack Wiecks – Banjo
Bill Todd – Drums
Bob Sterling – Tuba
John Soulis – Trombone, Leader
Information
Website:  www.reverbnation.com/MissionGoldJazzBand
Facebook: Mission Gold Jazz Band Facebook page
Upon request, for smaller venues and events, the band can be reduced to as few as 5 instruments. The leader can assemble the best sound for your event.
November 6, 2016
"Chris Bradley's Traditional Jazz Band"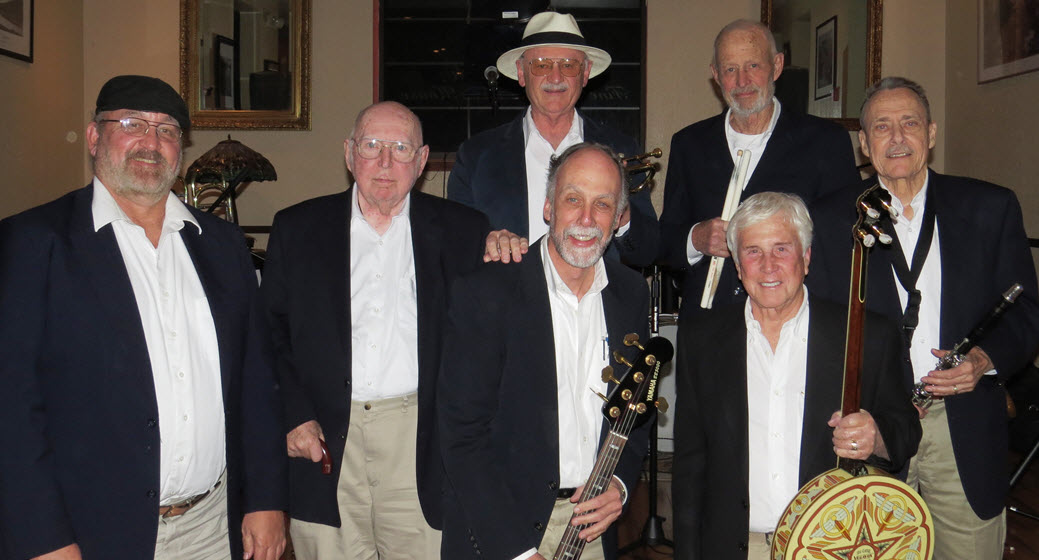 Chris Bradley's Traditional Jazz Band is a collection of well-seasoned local and San Francisco based musicians with rich musical backgrounds. They performed together at The Pleasanton Hotel for four years, The Sunol Jazz Cafe for four years and are presently at The Castle Rock Restaurant in Livermore. The band plays a mixture of Traditional Jazz tunes– music of the 20's, 30's and New Orleans style jazz in a bouncy rhythmic style that is ideal for both listening and dancing.
Band Personnel:
Chris Bradley: Cornet – Leader, Vocals
Taught by bay area Dixieland cornet player and bandleader Fred Shockley. Played first trumpet for the South Bay "Leratones" swing band for over ten years. Played with a variety of East Bay Swing bands as well as Community Theater Group orchestras. Started his own Traditional Jazz group in the 1990's, and has since been performing in the Bay Area at a numerous venues. Subs with San Francisco's "Buena Vista Jazz Band", Mal Sharpe's "Big Money in Jazz Band", and the "Silicon Gulch Jazz Band" among others.
Robert Boring: Trombone
Raised in Richmond, California. Played in Richmond High Band – Air Force Band 4 years Trombone, Tuba, Electric Bass. Played 6 years in the Original Straw Hat Pizza Parlor in San Leandro in the Sixties. Plays regularly with Chris Bradley, has his own band in Alameda and plays with various Big Bands—Local icon-also has mentored /and is mentoring many musicians.
Dwayne Ramsey: Reeds, Vocals
Dwayne learned (trad. jazz) music listening to records and live radio broadcasts from the Club Hangover in the 1950's. He is a regular with Chris and a regular with "The King Cotton Band" in the Redding area. A highly skilled musician, Dwayne plays weekly in San Francisco with Mal Sharpe at The Savoy-Tivoli and monthly with Mal at a gig in Martinez (Armando's).
Rich Owens: Piano, Vocals
Very well known and sought after in the Traditional Jazz world, (local and international), Rich is a regular with several Bay Area groups including "Natural Gas" and the "Jambalaya Swing Band", his own group– and many many more.
Steve Doherty: Bass
Electric bass joined CB's TJB in April 2005. Steve–very loyal member of the band– also enjoys playing bass with the Golden Gate Park Band (25 years and counting). When he's not busy playing or teaching music, he's a docent at the Steinhart Aquarium.
Bob Steffen: Banjo
Bob has been a long time Bay Area musician playing with Traditional Jazz Bands. He has played Saxophone with local swing bands /as well as playing banjo in local banjo bands. He also plays in the San Ramon Symphonic Band. (And when not playing, he builds his own planes).
Mike Ross: Drummer, Vocals
Mike is a highly regarded Marin County drummer, who drives the band forward with an unerring sense of timing–his wonderful cheerfulness uplifts all the groups he plays with. He is also an important member of the "King Cotton Band".
October 2, 2016
"Midnight Rose Jazz Band"
Exciting — Hilarious — Energetic — Spontaneous — Entertaining
These words and more have been used to describe the Midnight Rose Jazz Band, one of the best loved traditional jazz bands today. This band has a unique combination of qualities and personalities that captivates audiences wherever they go.
For over 25 years, the Midnight Rose Jazz Band has been winning fans and bringing their own special brand of fun and entertaining music to jazz festivals and clubs all up and down the west coast.
"We have always tried to play high quality music, but equally important to us is having fun. We work hard to make sure that our audiences have a fun time as well, to leave our performances with a happy heart and a lighter step. We have never tried to sound like any particular band or 'style'. We are well rehearsed, but our arrangements are loose enough to allow for spontaneity…. and, more importantly, fun!"
~Dannie Balser-Singinghawk
BAND PERSONNEL:
Dannie Balser-Singinghawk – Trumpet, Vocalist & Leader
Nancy Kreis – Clarinet
Jeff Kreis – Trombone & Vocalist
Bonnie Otto – Piano, vocals
Jan Buhlert – Banjo & Guitar
Reuben Smith – Tuba & String bass
Carl Warmdahl – Drums
Tim Kreis – Tenor Sax (not pictured)
Dannie Balser~Singinghawk: Trumpet, vocalist and leader, formed the MRJB in the spring of 1990. Over her 34 year career as a jazz musician, Dannie has performed with such notable jazz musicians as Trummy Young, Dick Cary, Bob Havens, Abe Most, Howard Alden, Johnny Varro, Dan Barrett, Edie Metz Jr., Art Farmer, Jon Faddis, Plas Johnson, and Bill Watrous. Active also in the area of jazz education, Dannie taught for over 20 years at the Sacramento Traditional Jazz Society jazz camps both as a trumpet instructor, vocal instructor and as a band instructor.
Nancy Kreis: Clarinet, began her jazz-playing career with the Tuleburg Jazz Band in 1985. Prior to that she was a classical clarinetist, playing with the Sacramento Symphony Orchestra. Nancy has excelled also in the field of music education, having been awarded the prestigious California Music Educators Teacher of the Year award given by the CMEA. She has formed and directed two award winning youth trad jazz groups over the years, The Howling Coyotes and Take Two jazz bands.
Jeff Kreis: Trombone and vocalist, Jeff is probably better known as one of Sacramento's premier trad jazz trumpet players. Jeff is a veteran of many Sacramento Jazz jubilees. He is also very active with several bands in the Sacramento area, such as Crescent Cats and the Hot City Jazz Trio.
Bonnie Otto: Piano, vocals, Bonnie is one of the most recognized and best loved performers on the jazz festival circuit. She has performed in more popular bands than we can list here, the Wooden Nickel Jazz Band and Sister Swing are just two you may recognize. A great entertainer as well as musician, Bonnie is a must-see wherever she is performing.
Jan Buhlert: Banjo, guitar: Jan is the type strong, musically dedicated rhythm section player that both provides and creates a strong confident sound. Jan divides his time between Midnight Rose and playing with the Black Tuesday jazz band with whom Midnight Rose has shared the stage on more than one occasion.
Reuben Smith: Tuba, although Reuben can handle both the tuba and the string bass with ease, his focus is now on the tuba which lends itself to a better two-beat sound which the MRJB is more stylistically geared to. A devotee of trad jazz Reuben 'haunted' Hambone Kelly's and Lou Watters jazz clubs in the 1940's. In the 1980's Reuben began playing with the California Express Jazz Band and in 1990 became one of the Midnight Rose's founding members.
Carl Warmdahl: Drums, Carl worked for many years as a free-lance drummer before joining Midnight Rose. Carl plays with a hard-driving yet extremely musical style. Carl is also an accomplished artist, working primarily in oils, acrylics and pen and ink.
Tim Kreis: Tenor sax, (not pictured) now a student at Northridge's prestigious school of jazz, drops in when he can. His quiet demeanor belies a prodigious talent and we're always happy when he's in town and able to join in!
September 4, 2016
"Jam-a-Roo Jammers" (all day)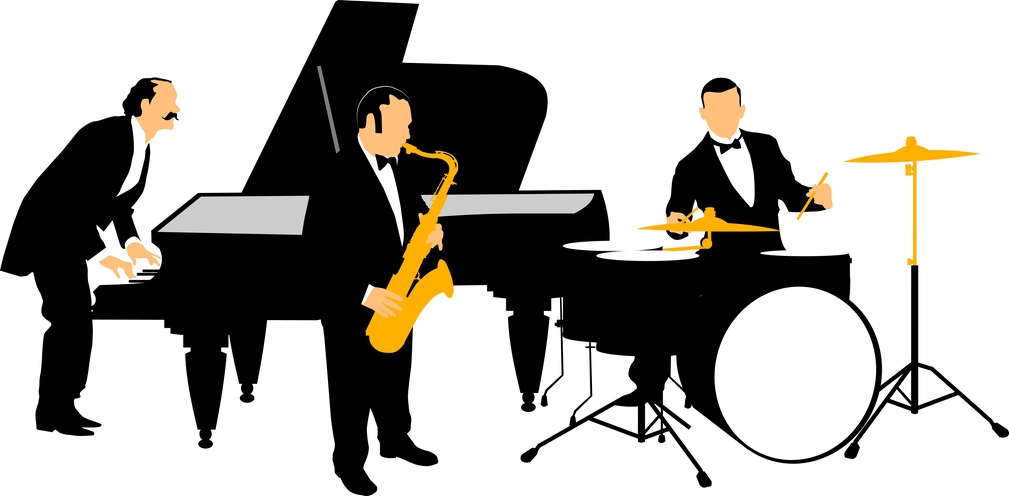 Jammers' month, or "Jam-a-Roo Jammers" (as coined by Bill Sharp), is a day of "Jammer" fun. Players come in from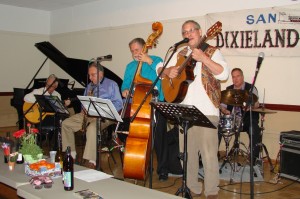 all over – including Sacramento, Modesto, Stockton, etc. to play.

Here are some photos of one of our past Jam-a-Room Jammers Day – which was fun for all!
Join us!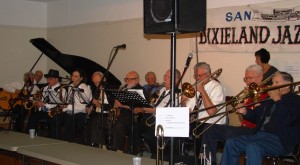 August 7, 2016
"The Jambalaya Swing Band"
The Jambalaya Swing Band patterns itself from the great Bob Crosby and The Bobcats Orchestra. The Instrumentation is 4 Saxophones; 3 Trumpets; 1 Trombone, Piano, Bass, and Drums. The Crosby Orchestra consisted of 1 additional Trombone.
Large Dance Bands of Jan Garber, Dick Jurgens, Sammy Kaye, Russ Morgan, to name a few the 1930's and 40's bands, generally consisted of 10-14 players. Crosby started in 1935 but didn't become a "hit" band until he released "Big Noise From Winnetka" and additional "Dixie" selections in 1938. His Instrumentation was centered around a "Dixie" front line or the Piano of Joe Sullivan. Bob fronted the band well into the 1980's and always was a big draw at The Carnation Stage and The Plaza Gardens Stage at Disneyland.
Jambalaya's players are:
Saxophones and Clarinets: Mike Young, Stuart Yasaki, Mike Kenney, Bruce Saxton,
Trombone: Ron Wetzel
Trumpets: Mack Horton, Noel Weidcamp, Ken Brock,
Piano: Rich Owens
Bass: Don Hall
Drums: Ed Margolin
The band plays every 1st and 3rd Tuesdays from 7:30-9:30 pm at The Castlerock Restaurant, 1848 Portola Avenue, Livermore, California.
July 3, 2016
"Bye Bye Blues Boys Band"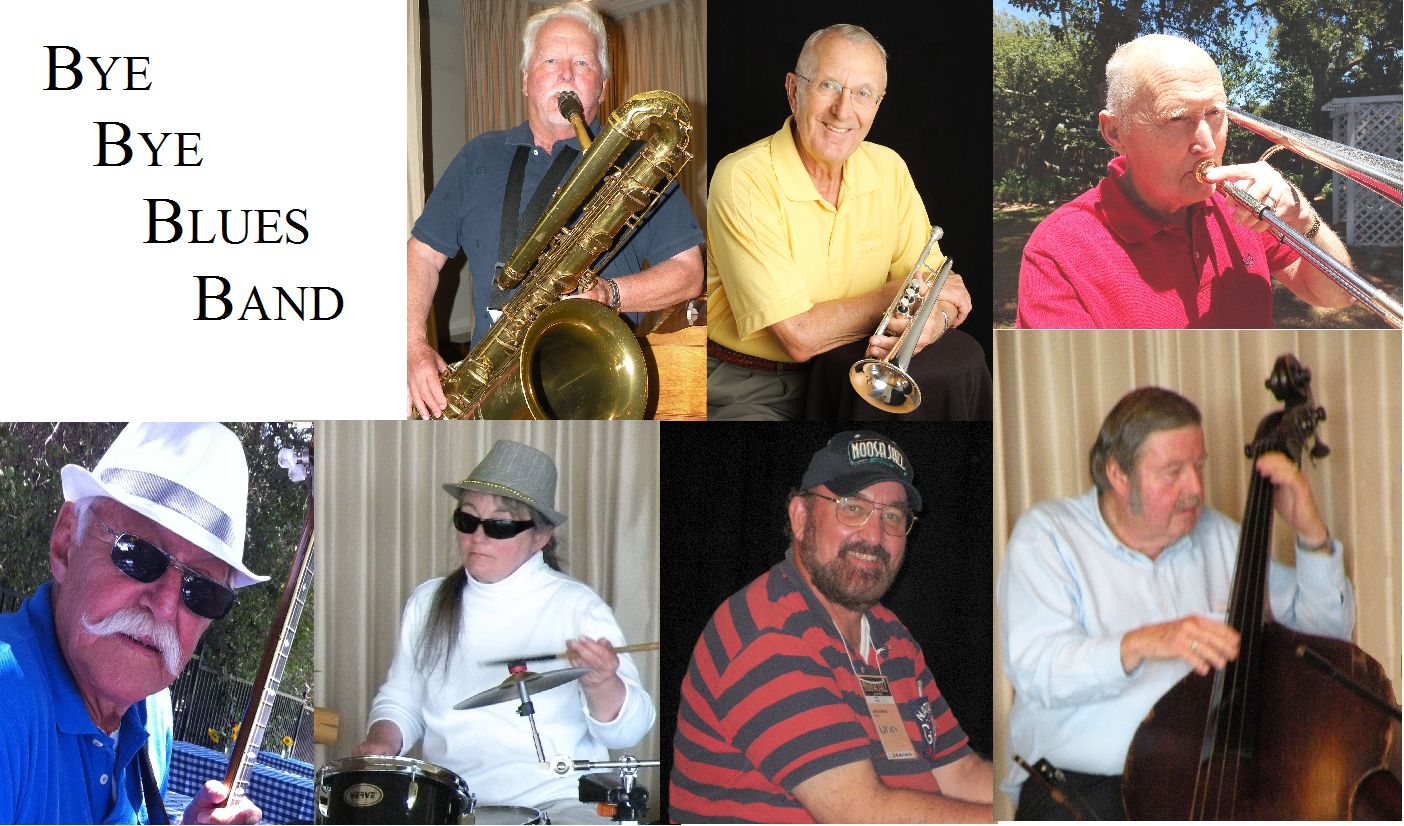 The Bye Bye Blues Boys Band, with Dick Williams as the on stage leader, are a local group of seasoned veterans of jazz and swing. They bring a fresh and exhilarating approach to traditional jazz tunes, the players are all individually excellent, and together produce a terrific sound that keeps the enjoyment level high and exciting.
Band Personnel:
Don Irving – Soprano Sax & Bass Sax (leader)
Dick Williams – Cornet (on stage leader)
Carl Reiley – Trombone
Carl Lunsford – Banjo
Debera McIrving – Drums
Rich Owens – Piano
Bert Robinson – String Bass
June 5, 2016
Bill Dendle and "The Muscat Ramblers"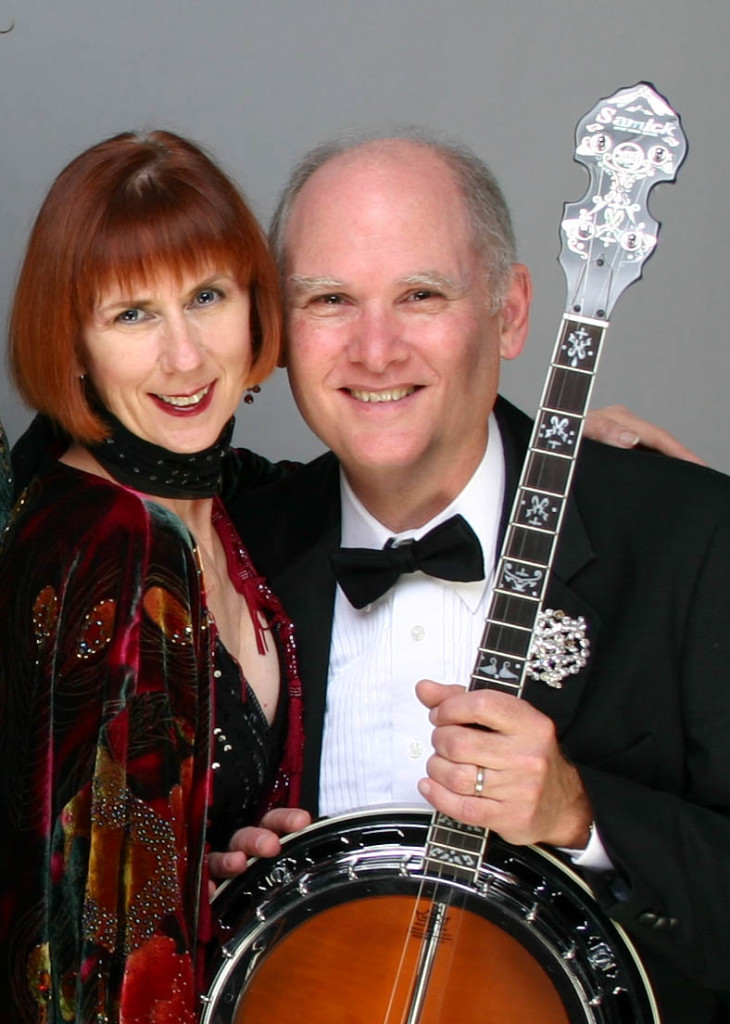 Bill Dendle began playing banjo in 1963, and by 1967 was appearing at Mickie Finn's in San Diego as leader of the South Market Street Jazz Band, which also appeared at Disneyland and on USO tours. In 1968, Bill took over the job of lead banjoist at Capone's Warehouse in Monterey, where he appeared off and on for the next nine years. 1977 found Bill as an entertainment consultant, banjoist, trombonist, band leader and entertainer at Florida's Disneyworld, where he opened the Empress Lilly Showboat. Bugs and humidity sent Bill back to San Diego in late 1977 to revive the South Market Street Jazz Band, which became a popular fixture at Dixieland Jazz Festivals throughout the United States.
From 1982 on, Bill appeared as one-half of the duo called Goodtime Banjos at banjo concerts, jazz festivals, conventions and private parties until 1995. Bill is currently director of two jazz camp programs in Sacramento (youth and adult). He plays trombone, guitar and banjo in Shelley Burns & Avalon Swing, a popular Sacramento jazz, show and dance band, and appears at jazz festivals, parties, conventions and shows with his wife, the talented vocalist/entertainer Shelley Burns, and Fast Eddie Erickson.
Bill has performed with Bob Haggart, Bob Crosby, Johnny Varro, Dick Cary, Abe Most, Nick Fatool, Bob Draga and others, and is highly regarded as a banjoist, trombonist and very funny master of ceremonies. Bill's home page is found at S & B Productions.
Band Personnel:
Bob Sakoi, trumpet
Bob Williams, trombone
Shelley Denny, bass
Bill Dendle, guitar and banjo
Shelley Burns, drums and vocal
May 1, 2016
The Seldom Herd Band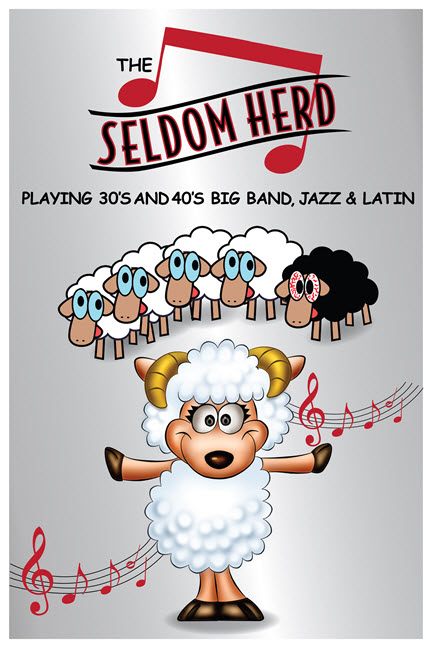 It is with great sadness that we report the passing of Art Bregante. Art died unexpectedly on Monday, April 18th. Understandably, out of respect for their leader, the Art Bregante Orchestra has cancelled their previously scheduled appearance on May 1st.
The Seldom Herd Band is honored to volunteer our time, standing in for the Art Bregante Orchestra. We will be the featured band on May 1st, playing the great dance music you were expecting.
The Seldom Herd Band will bring music-to-your-ears! We will be playing 30's and 40's Big Band, Jazz & Latin tunes.

Band Personnel:
Geri Eckert (the Ewe) – Vocals, Percussions
Dick "Rich" Lockwood – Reeds, Leader
Charlie Gehlbach – Trumpet
Chris Williams – Trumpet/Cornet
Bob Gonzalez – Trombone
Carl Kaiser – Piano
Mark Kramer – Guitar
Bill Hoffman – Bass
Carl Warmdahl – Drums
April 3, 2016
The Fog City Stompers
The Fog City Stompers have been playing since 1985. In addition to the great old standards of the 1920s & 1930s, which include arrangements and transcriptions of the Bix Beiderbecke recordings, they offer original compositions and new arrangements performed in the traditional Dixieland jazz style. They play currently at various establishments and jazz clubs around the San Francisco bay area, and at private affairs. Please come up and say hello to them.
Band Personnel:
Tom Belmessieri – Cornet (Leader)
Tom began playing trumpet when he was 9 years old and has been involved with music ever since. He grew up with an appreciation for the music of the '20s, '30s, & '40s because his dad was always playing those records, particularly Bing Crosby, the early jazz of Bix Beiderbecke and Paul Whiteman, and the big swing bands. In high school Tom sang in the music department's barbershop quartet. In 1985 he organized a group of musicians to play Dixieland and that was the birth of the Fog City Stompers. Tom has composed a number of the band's original tunes.
Mike Young – Clarinet/Sax
Mike has been performing on clarinet and saxophone since 1977. He was a member of the Aptos High Jazz Ensemble, an award-winning band that performed at the Monterey, Montreux (Switzerland) and Northsea (The Hague Holland) Jazz Festivals. Since graduating from UC Berkeley he has kept busy in a variety of musical settings. Mike was a member of "Beach Blanket Babylon" pit orchestra for five years. He leads and performs with the Moodswing Jazz Trio and Orchestra, and also plays regularly with the Royal Society Jazz Orchestra, the Continental Breakfast Club, Ray Brown's Great Big Band, and the Jambalaya Swing Band. His main musical influences are Fletcher Henderson, Zoot Sims, Benny Goodman, and Duke Ellington.
Rich Newcomb – Trombone
Rich has been playing music since he was 6. His mother was a piano teacher and started him on that instrument but he switched to the trombone at age nine because he "liked the slidey thing". A plethora of trombonists in his junior high school caused his transition to baritone and he began doubling on tuba in high school. He acquired his interest in traditional jazz after discovering the Firehouse Five Plus Two, and he had the honor of opening for Turk Murphy during Murphy's 1986 performance on the California Maritime Academy campus. He has been performing traditional jazz since 1987 when he began playing with the Dew Drop Inn Jazz Band in Fresno. After some years playing overseas, where he performed mainly big band swing and bop, and where he also taught himself to play trumpet, he returned to his first love of traditional jazz and has performed with many jazz ensembles in the Bay Area. His primary instrument is trombone but he also plays cornet, euphonium, and tuba, as well as occasionally inflicting vocals on his audiences.
Mike Hart – Tuba
A native San Francisco boy, Mike grew up to all the musical sounds of the City. He enjoys hearing and playing all kinds of music. He has played regularly with Vintage Music Theatre, the San Francisco Banjo Band, Deutscher Musikverein, and Half Moon Bay Community Orchestra. For over thirty years he has played tuba with the Pacific Coast Ragtime Orchestra. He plays occasionally with popular bay area traditional jazz bands and still wants to be a rock and roll star.
Morgan Olk – Piano
Morgan comes from a musical family – both grandparents were ragtime pianists and old-timey fiddlers. His father played banjo with the Red Hot Peppers for a number of years and then weekly at the Danville hotel for some time. He grew up around trad jazz but studied classical music with a rather prominent Romanian pianist during his high school years. After a performance at a state level pianist competition, he met Pete Clancy, was introduced to Turk Murphy that week, and got to play "Black Bottom Stomp" and "Chicago Breakdown" during the band's break. He also played in the Air Force jazz band after high school and all through college in jazz clubs around NMSU. Morgan joined the Fog City Stompers in 2013.
Pat Dutrow – Banjo/Guitar
Pat first learned banjo from his father when he was just 8 years old. Soon after, he took lessons from the legendary Charlie Tagawa and went on to play in both Charlie's junior banjo band and the Peninsula Banjo Band in San Jose. At the same time Pat studied classical organ music at Dominican Convent. In high school Pat started his own dixieland band and also played in many school musical productions. After high school Pat joined the Royal Society Jazz Orchestra and worked his way through college by playing summers at the Santa Cruz Beach Boardwalk and Marine World. After eight years with the RSJO Pat took a banjo seat with the Professor Plum jazz band until it folded, and then the Natural Gas Jazz Band. Pat has also been a featured soloist at the Palo Alto Banjo Jubilee and the Sacramento Jazz Jubilee banjo concert.
Adam Roderick – Drums/Percussion
Adam began his musical experiences at the age of 8, taking trumpet lessons in grade school, and has remained active in music in one way or another ever since. He has studied piano, guitar, and saxophone, and dabbles in many different instruments in a variety of musical styles. Adam has played with such artists as Rex Allen and Peter Mintun.
March 6, 2016
Bechet's Fantasy Band

"Paying Tribute to Sidney Bechet"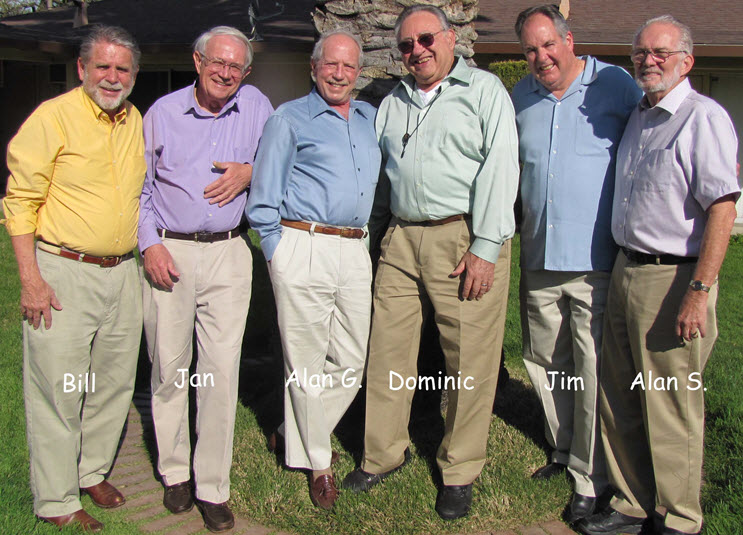 The uniqueness of this band is that it plays tunes written and or performed by Sidney Bechet, which are extremely diverse in their styles and, which are seldom, if ever, heard. Because of the variety of the music, and the drive of this band, dancers are forced to get up and dance.
Sidney Bechet, born in 1897 to a middle class Creole family in New Orleans, was one of the first important soloists in Jazz, beating Louis Armstrong by several months.
The New York Times said, "For more than 40 years, Bechet created a style which moved the emotions even as it dazzled the mind".
"Sidney Bechet, the almost forgotten jazz immortal, was the very epitome of jazz… he was the most unique man to ever be in music". – Duke Ellington
Band Personnel:
Dominic Ruggieri, Co-Leader/reeds: He has been playing reeds since the age of six, organizing his first 17 piece jazz band in high school. Played in numerous jazz groups in college, lead the University Dixieland Band, spent 4 years in the 561st Air Force National Guard band, and played with various jazz combos in the San Jose Bay Area. After retirement in 2001, he moved to Shingle Springs and stays active as the Leader of the eight piece Black Tuesday Jazz Band and principal clarinetist for the Sierra Symphony.
Bill Sharp, Co-Leader/trumpet and trombone: Since the age of eight Bill has tooted whenever and wherever he can. Though he has played in rock, blues, country, bluegrass, jazz and Latin bands, he loves it especially when he gets to play Dixieland, which he has played continuously since 1980 in numerous bands run by others, as well as leading several of his own. Bill has played at many jazz society meetings and appeared at Festivals in and out of California.
Jan Buhlert, Plectrum guitar and banjo: Began playing banjo in his Junior year of high school, after playing trumpet for many years in marching, concert, dance, and jazz bands. While in college, he played banjo in numerous venues. In 1962, he joined the "Phabulous Dixon Phirehouse Philharmonic Jazz Band", which still performs. Toured Hawaii five times with PDPPJB, played on a cruise ship in the Mediterranean, and on a cruise ship to Canada. Hundreds of gigs have been played during ensuing years. Jan is a collector of over 70 pre-war banjos.
Jim Laveroni, Drums/percussionist: Self taught at the age of twelve, he plays all styles of music with equal skill and grace, from rock, to blues, to Dixieland. Jim plays with several Sonoma County bands, as well as with Black Tuesday Jazz Band. A band can perform at its best when it has a good rhythm foundation as provided by drummers like Jim.
Alan Ginter, Upright bass: Alan states, "Yes, I read music, but I don't let it get in the way of my playing". That pretty much defines a real jazz musician. Alan is definitely "the real thing". His technical training resulted in his earning a B.A., a B.S., and an M.A. degree in music, but his real education has come from his numerous years having been in bands backing many major performers, and playing in countless small groups. It's hard to name someone he hasn't played with, both nationally and internationally. Since the 1980's he has played every year at the Sacramento Jubilee. So he is a definite asset for any band to which he lends his talent. You'll love the fact that at age thirteen he got a special license allowing him to play where liquor was served, and has been playing continuously for well over 50 years.
Alan Shaw, Piano: Alan Began playing piano in grade school and played mostly as a solo pianist for many years. In the 1980's he became the leader for the "R U Sure Band" in the San Francisco Bay Area for seven years. On Retirement he moved to Bakersfield, where he performed as soloist and with various Jazz Bands on occasion. In 2003, he joined the Black Tuesday Jazz Band. Alan has written some original music.
February 7, 2016
"Jam-a-Roo Jammers" (all day)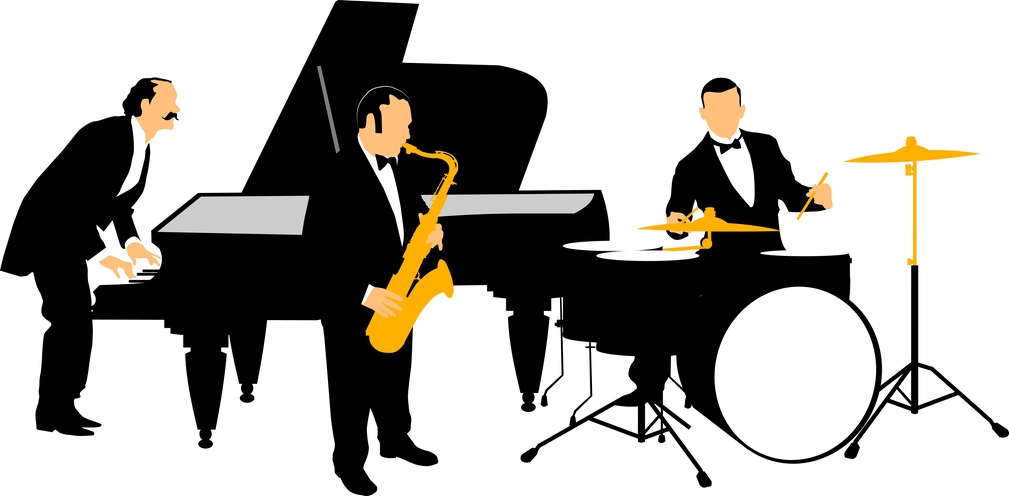 Jammers' month, or "Jam-a-Roo Jammers" (as coined by Bill Sharp), is a day of "Jammer" fun. Players come in from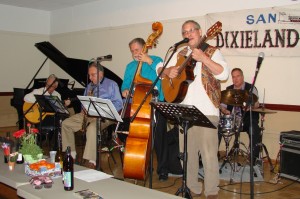 all over – including Sacramento, Modesto, Stockton, etc. to play.

Here are some photos of one of our past Jam-a-Room Jammers Day – which was fun for all!
Join us!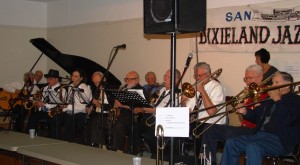 January 3, 2016
John and Kristy Cocuzzi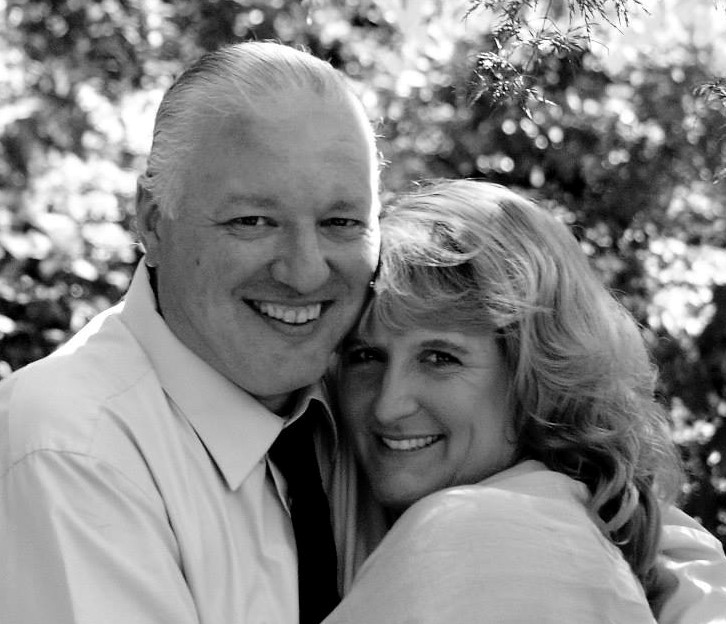 Kristy Reed Cocuzzi has a sultry voice that has thrilled audiences all over for 30 years, and was featured on vocals, sax and clarinet with Big Tiny Little for almost 10 years. She has toured as lead alto, clarinet, & vocalist with the "Live Lawrence Welk Show" throughout the United States and Canada, and as a member of the "Champagne Music Makers" at the Welk Resort in Branson, Missouri. She is also part of the Wunnerful Women of Welk vocal quartet, alongside MaryLou Metzger, Ava Barber, and Gail Farrell. She has performed on cruise lines, worked with the Temptations, Franki Valli, the Russ Morgan Orchestra, the Jimmy Dorsey Orchestra, the Cab Callaway orchestra, the Drifters, and has appeared alongside great musicians including Dave Bennett, Arthur Duncan, Sandor Benko, Jack Imel, Mike Vax, and Anacani. She has worked the casino circuits in Reno, Carson City, Laughlin, and Las Vegas, and continues to keep a presence on the national jazz festival and jazz party circuit. Locally she is high in demand, with Sensible Sounds, the Cocuzzi Duo, Trio and "Courtet", and various local artists.
John Cocuzzi plays with passion and intensity on piano, vibes, vocals and drums. For more than 35 years, John has been entertaining crowds internationally performing alongside jazz and blues greats. With dynamic style and diverse rhythms, John's innovation breathes new life into familiar tunes, from swingin' and burnin' jazz and blues to lush and sultry ballads. An intuitive performer, John possesses that musical "fire in the belly," igniting the crowd with skillful improvisation. In addition to being a fine pianist, John has earned a nationwide reputation as a premier swing vibraphonist. www.johncocuzzimusic.com
Together, John and Kristy bring 60 combined years of youthful enthusiasm and experience to the table! They are both known for successful workshops with students, building knowledge of the jazz idiom and inspiration to all! Their focus is on the music and all it has to offer, and they communicate that passion to the next generation with skillful ease and success, especially with Kristy's background in education! They work well with any combination – their versatility makes them unique to any situation. John can be utilized in any rhythm section capacity, and sings as well, and Kristy is known not only for her vocal prowess, but she also plays wonderful clarinet and sax, reads anything printed, and knows big band styles like no other. This is your all-purpose, go to, anything you could possibly need, sharing a room with no complaints, "how can we make that happen?", professionalism first duo! The Cocuzzis are what you have been waiting for.
Band Personnel:
Peter Hackett ~ Drums
Carl Kaiser ~ Trombone
Bill Sharp ~ Trumpet